What 2 things can we do today that will have a positive impact on how we think, act and feel about depression and anxiety?
SPOT the early signs
Assist people to get help
SPOTa Card to Share Facebook SPOTa Card to Retweet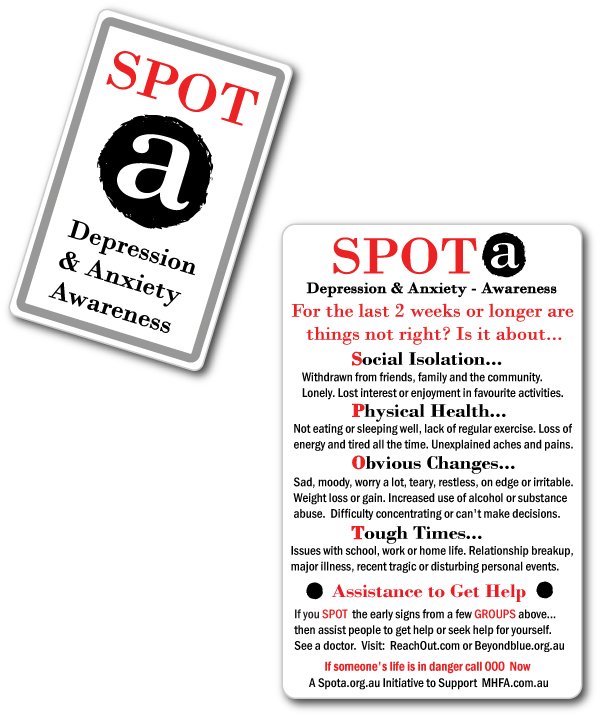 Read the story here : How to save a beautiful mind. A Dad's Story on ABC OPEN
-------------------------------------------------------------------------------------------------------------------------------------
SPOTa – The Local Community Depression and Anxiety Awareness Program to Tackle the Leading Cause of Disability Worldwide*
SPOTa is a community awareness program that helps spot the early of signs of depression and anxiety along with raising vital local funds for Mental Health First Aid training across Australia.
The SPOTa program is made up of a simple, easy to use SPOTa info card, community presentations, awareness events and activities that highlight the importance to "Spot the Early Signs" and to assist people to get help or to seek help for ourselves when needed.
In partnership with Mental Health First Aid training who provide the effective steps to reduce the personal, social and economic burden that is often never talked about. MHFA sheds light on the disease that is the leading cause of disability worldwide* ... a treatable disease that touches every community across Australia.
The word SPOTa is simple acronym that is taken from the evidence based research that identifies the risk factors, warning signs and tipping points of many mental health issues ... specifically depression and anxiety.
SPOTa :
Social Isolation, Physical Health, Obvious Changes, Tough Times and Assistance to Get Help.
The SPOTa community investment fund was established to deliver a multi-method early intervention strategy that addresses the growing concerns related to young people's mental health throughout metropolitan, regional and rural communities.
The fund is structured to ensure money raised in the community stays in the community to meet the needs of local communities. A comprehensive training and participation model is designed to effectively mobilize and engage friends, families and the greater community while making major inroads to break down the barriers for seeking assistance and the stigmas surrounding mental health.
"Just one SPOTa Card can save a beautiful mind &
Mental Health First Aid will prevent the loss of a life"
Community Investment Fund Packages SPOTa Program Overview
For more information regarding:
SPOTa Programs - Community Investment Fund
Contact : David L Wright : Email dlw@thecoast.com.au
Community and National Awareness and Fundraising Events
Visit : www.spotathon.org SPOTa Crew
Mental Health First Aid Training and Instructors
Visit: www.MHFA.com.au - Up coming courses
Email: mhfa@mhfa.com.au Phone: +61 3 9079 0200
(Monday – Friday 9am – 5pm, Eastern Standard Time)
The SPOTa Program is mental health initiatives developed by the Ties for Lives Foundation an Australian not-for-profit organisation.
Donations over $2 made to this program are tax deductable. Donations Can Be Made Here

Ties For Lives Group Ltd ACN 154 312 875 as trustee for Ties For Lives Foundation ABN 65 158 691 418 www.TiesForLives.org.au C/o Shop 27a Balnarring Village, 3050 Frankston - Flinders Road Balnarring VIC 3926 Ph 03 5983 1982
Training programs delivered by or accredited through Mental Health First Aid Australia www.MHFA.com.au
*Reference- Leading cause of disability worldwide. World Health Organisation 2012,
Depression – A Hidden Burden. Let's recognize and deal with it. Flyer (Please Right Click and Save Link as)